NOUVEAU BeneoSpa spa gonflable pour 4 personnes avec chauffage - spa à bulles rond portable pour l'extérieur - noir - 180 cm - 130 jets de massage
Dimensions : Diamètre extérieur : 180 cm, Diamètre intérieur: 140 cm, Hauteur 65 cm
Volume : 800 litres
Parfait pour 4 adultes
Nombre de buses (jets d'air): 130
Contenu de l'emballage : spa, filtre à cartouche, tampon isolant, housse et kit de réparation.
Contrôle automatique de la température de l'eau
Système autogonflant
Filtre : 12V CC, 50Hz 30W
Poids : 26 kg
Couverture en PVC laminé avec feuille d'aluminium pour maintenir la température de l'eau
Verrouillage enfant - après avoir entré le paramètre sur le panneau de commande, le verrouillage enfant est automatiquement activé après 30 secondes. Vous déverrouillez la sécurité enfants en maintenant enfoncée la touche SET TEMP
SKU
NEW_BENEOSPA_4P_BLACK_BLACK
Délai de livraison: 4 - 5 jours ouvrables
Cliquez sur l'image pour agrandir

Vous pouvez retourner les marchandises dans les 14 jours
Nous rendons l'argent dans un délai de 1 jour
Les spas gonflables de BeneoSpa sont de forme ronde et de couleurs variées. Le spa gonflable pour 4 personnes de BeneoSpa peut être utilisé n'importe quand, n'importe où - que ce soit pour une fête, une réunion ou pour profiter des étés sur votre terrasse ou dans votre jardin, avec votre famille ou vos amis.
Idéal pour la famille, la fête entre amis, ainsi que pour les couples.
Transformez votre maison ou votre appartement en une résidence luxueuse avec un NOUVEAU type de hot tub BeneoSpa de qualité supérieure !
Le bénéfice thérapeutique a été démontré dans de nombreuses études médicales. Les plus fréquemment mentionnés sont les effets bénéfiques sur le système musculo-squelettique, libérant une influence sur le côté psychique de la personne. Son bénéfice indéniable est aussi pour notre peau. Les bulles le conquièrent, le massent et améliorent le métabolisme. Le tube chaud mobile BeneoSpa a un excellent rapport qualité/prix. Le diamètre extérieur est de 180 cm et peut accueillir 4 adultes. Avec un système d'auto-gonflage intégré, le spa est prêt à l'emploi en quelques minutes, sans effort.
Verrouillage enfant - après avoir entré le paramètre sur le panneau de commande, le verrouillage enfant est automatiquement activé après 30 secondes. Vous déverrouillez la sécurité enfants en maintenant enfoncée la touche SET TEMP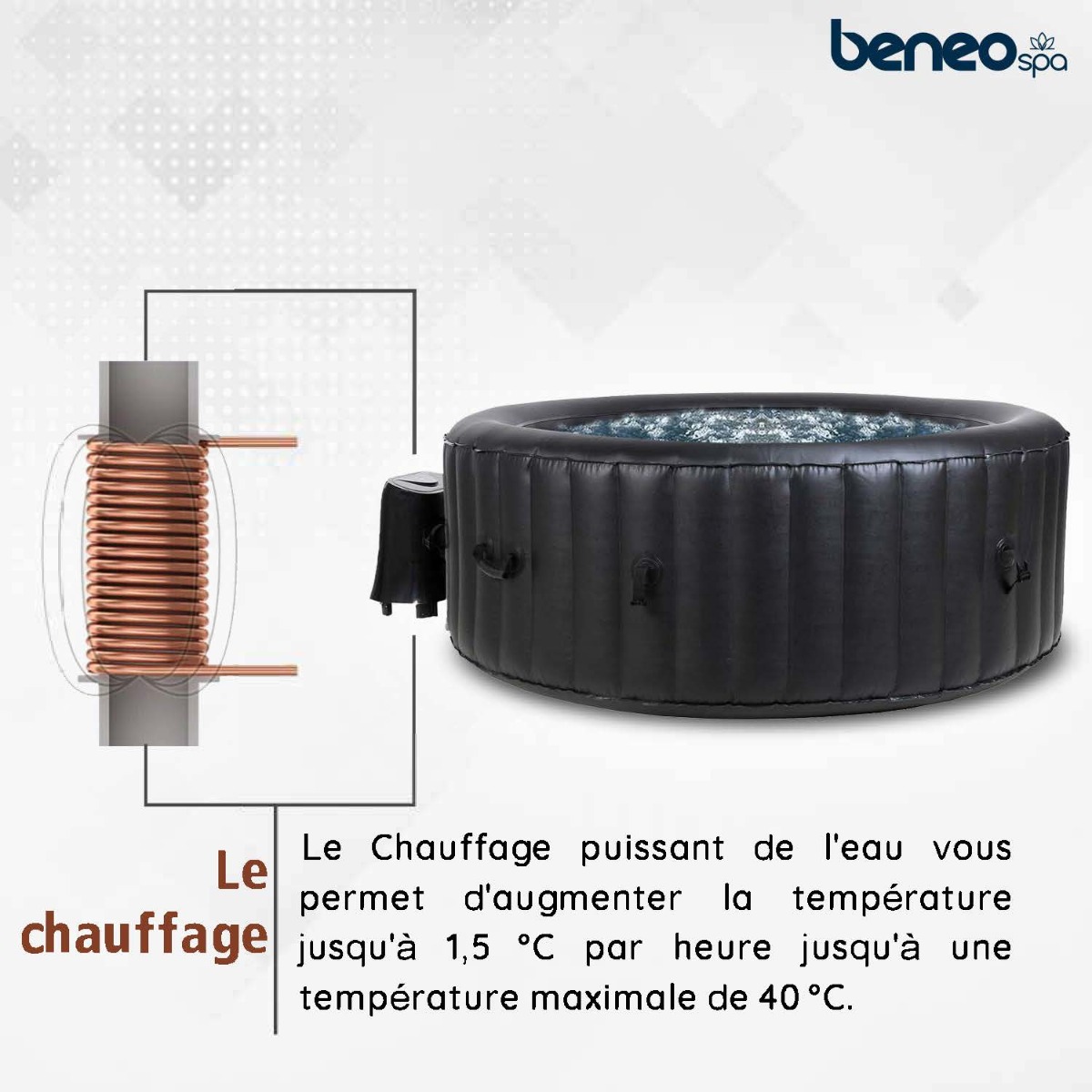 Grâce au chauffage intégré, vous pouvez sélectionner la température du bain ou le massage qui vous convient le mieux. Le radiateur vous offre un bain chaud et relaxant (température de l'eau de 35 °C à 38 °C) ou un bain chaud (température de l'eau de 38 à 40 °C). Le réchauffeur à circulation vous permet d'augmenter la température jusqu'à 1,5 °C par heure jusqu'à une température maximale de 40 °C et il est également équipé d'un verrouillage de sécurité des réglages.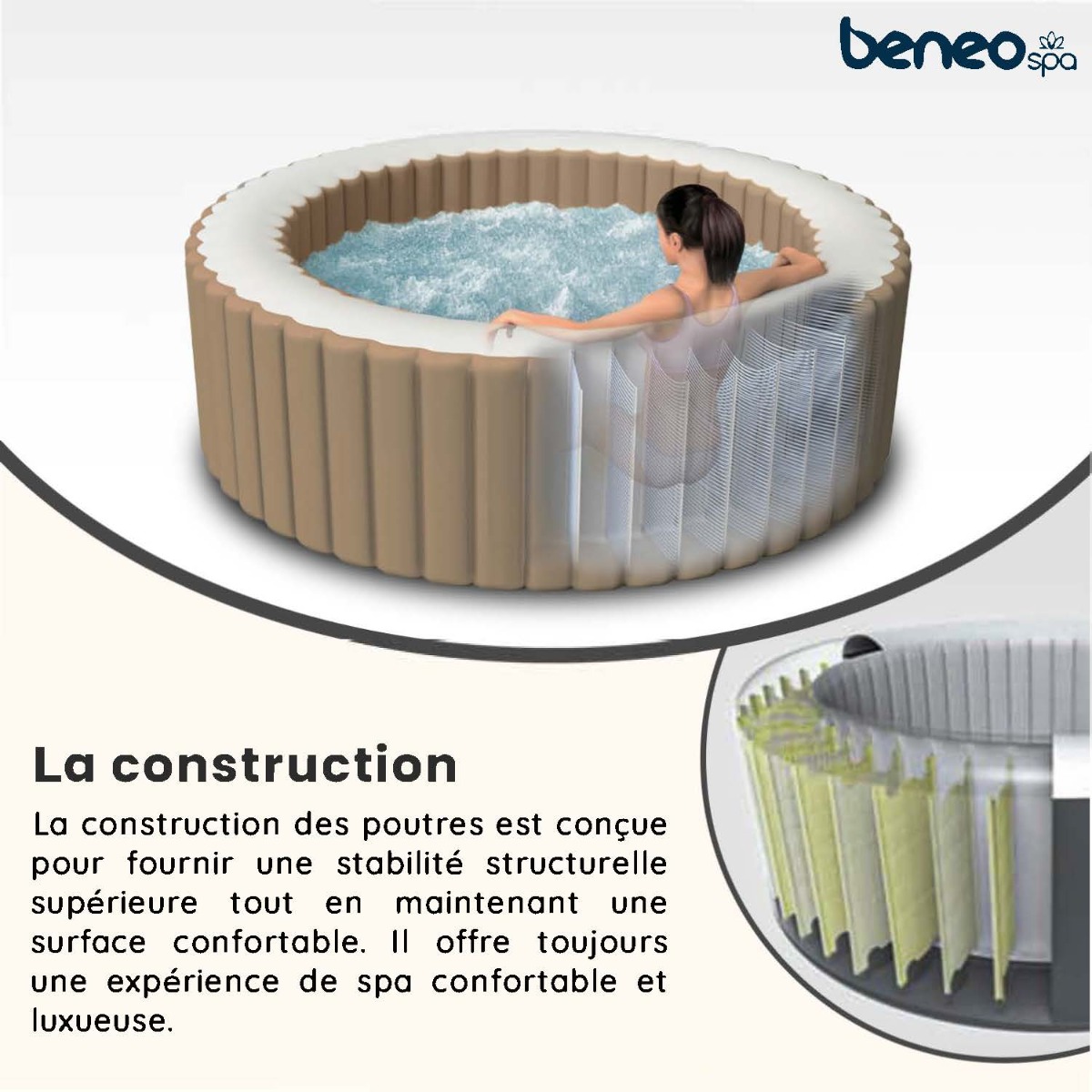 La construction des poutres est conçue pour fournir une stabilité structurelle supérieure tout en maintenant une surface confortable. Il offre toujours une expérience de spa confortable et luxueuse.
Le spa gonflable possède un revêtement interne flexible qui vous permet de vous détendre confortablement pendant des heures après une longue journée fatigante.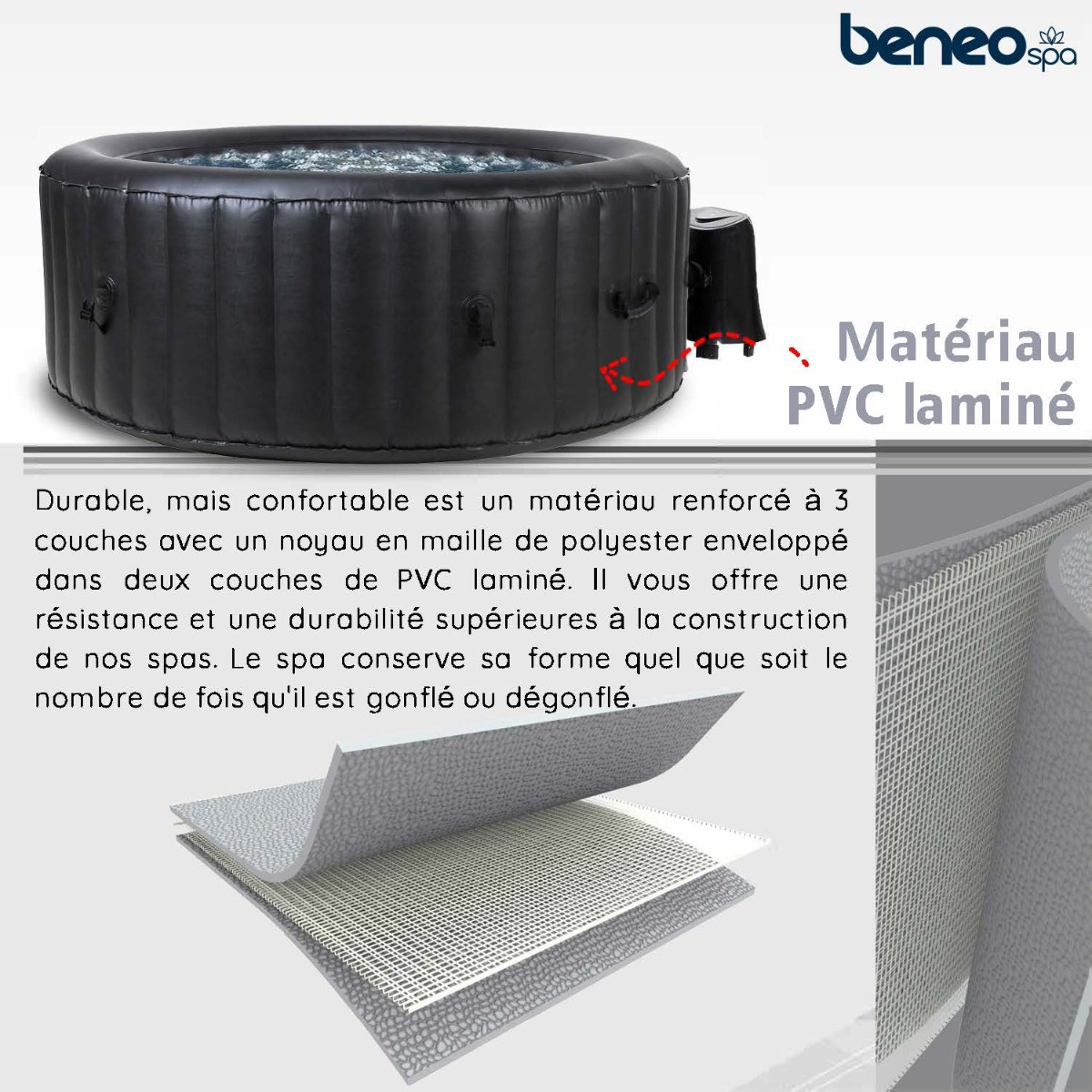 Matériau PVC laminé. Durable, mais confortable est un matériau renforcé à 3 couches avec un noyau en maille de polyester enveloppé dans deux couches de PVC laminé. Il vous offre une résistance et une durabilité supérieures à la construction de nos spas. Le spa conserve sa forme quel que soit le nombre de fois qu'il est gonflé ou dégonflé.
Comme le bain à remous est fabriqué en PVC, il est flexible et donne à votre spa un aspect lisse et sans couture. Les laminés en PVC ont des propriétés résistantes, ce qui les rend plus durables.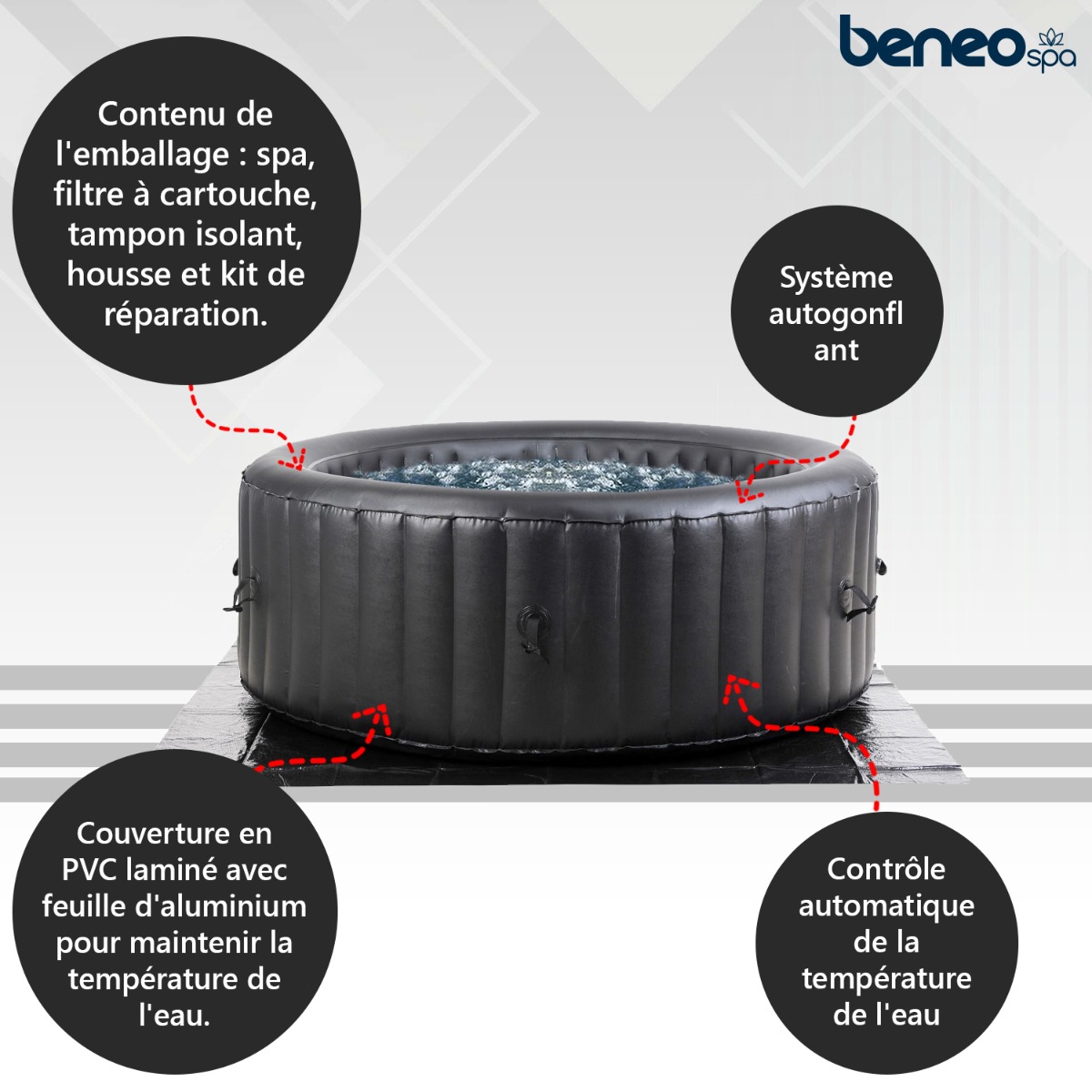 Le chauffage puissant de l'eau vous permet d'augmenter la température jusqu'à 1,5 °C par heure jusqu'à une température maximale de 40 °C.
Spécifications techniques
| | |
| --- | --- |
| Capacité | 4 adultes |
| Matériel | 0.60 mm / 24 calibre K80 PVC laminé polyester |
| Le volume | 800 litres |
| Diamètre extérieur | 180 cm |
| Diamètre intérieur | 140 cm |
| Hauteur du spa | 65 cm |
| Nombre de jets d'air | 130  |
| Pouvoir des bulles | 600W/0.81HP |
| Filtration | Filtre à cartouche 12V CC, 50Hz 30W |
| Couche supérieure | Laminated PVC cover with aluminum foil and safety closures |
| Poids du spa | 26 kg |
Plus d'information

| | |
| --- | --- |
| Poids | 26.0000 |
| Manuel d'instructions | Oui |
| Dimensions - Hauteur | 65 |
| Dimensions - Largeur (cm) | 180 |
| Dimensions - Longueur (cm) | 180 |
| Taille de la boîte - hauteur (cm) | 60 |
| Taille de la boîte - largeur (cm) | 40 |
| Taille de la boîte - Longueur (cm) | 60 |
| Max. charge (kg) | 825 |
| Max. testé en charge (kg) | 825 |
Rédigez votre propre commentaire
Note: Les spécifications techniques peuvent être modifiées sans préavis. Les images ne sont données qu'à titre indicatif.